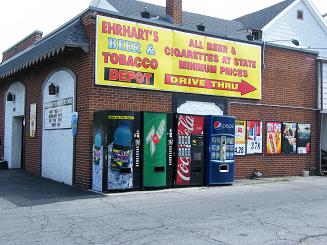 Welcome to Ehrhart's Drive Thru


Here at Ehrhart's we're proud to say we've been providing products and goods in Bucyrus for over 60 years. The Ehrhart's name is established and recognized in our community, and has been for generations.
Ehrhart's  Drive Thru & Party Store, currently owned and operated by Bob and Wanda Berry, was founded by John F. and Vera Ehrhart in 1947. Originally located at 336 N. Sandusky Ave. in the old Sauder Hatchery building, one fourth of the building was Ehrhart's and the other part was the chicken hatchery. Ehrhart's was then moved to our current location, 108 N. Lane st., in 1949. In 1964, John and Vera retired and sold the business to their son, John H. Ehrhart. In 1968 John married his wife Sandy and she joined him in running the business. In 1972, an inside drive-through was added, one of the first of it's kind. The store was also one of the first in the area to offer Ohio Lottery when it began in 1978.
Our store is now offering a large selection of wines, including Ohio and Lake Erie wines. We've recently added a coffee bar, pizza oven and roller grill to meet our customers needs for breakfast and lunch.

Stop in today and check out our selection of Ohio Lottery, Beer and Wine, Cigarettes and Tobacco, Newspapers and Magazines, Food and Snacks, Candy and Soda ! !

 Call us today: (419) 562-5886
 We're located at 108 N. Lanes St. in Bucyrus near The Bucyrus Public Library. Come in today and see us ! !
Offering a large selection of food, beverages and lottery
Click the "Find Us" tab to view our hours
At your door service by our friendly staff
Pre-Order all your supplies for your party or event